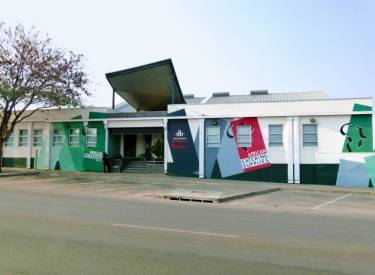 African Packaging Office Building & Warehouse
African Packaging (Pty) Ltd is for over 40 years Namibia's preferred supplier of packaging, cleaning and strapping solutions into the food, beverage, storage and hygiene industry.
The company is a subsidiary of African Business Investment (Pty) Ltd which in turn is entirely owned by Namibian Citizens.
Our Vision
We strive to be the preferred Namibian supplier of packaging, catering, cleaning and related products by embracing mutually beneficial partnerships with our clients.
Our Mission
To acknowledge that our employees are our greatest assets and that their passion and loyalty will determine our future success.
To exceed the constantly evolving requirements of our clients, we aim to deliver the most suitable solutions through our extensive range of products and services.
To deliver knowledgeable and professional advice, service and support that will empower our clients to make the informed decisions.
To build ethical partnerships with our clients based on mutual respect and integrity.
To maximize shareholder returns and to create a profitable, stable and sustainable business environment.
We supply various different qualities of equipment and materials for the various different needs of our customers from various reputable local and international manufacturers and suppliers including Italy, Germany, South Africa and the far East.
Our dedicated resources are highly experienced professionals, ensuring that the customer is served with employees who have in-depth product knowledge and expertise.